The exam plan can be delivered from an integrating system via webservice. If the exam administrator wish to create the exam plan manually, this can be done in Digital Exam in the tab "Oral examination" on the chosen oral exam. To do this, check the box "This exam has oral examination". Next the students you wish to create an exam for are selected. It is possible to select all students by clicking the checkbox above the list of students, as shown below.

Note that you can choose between assigning separate times to the individual student or letting the times be distributed as group exams.
Subsequently, click the arrow in the multibutton "Set exam times" and select "Create exam plan". This starts a wizard, which distributes the students on the days defined by the exam administrator.This will be explained in the following.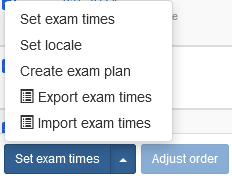 Select "Create exam plan" to start wizard.
Set examination time per student and add an exam local. If preparation time is selected before the exam, this must be set too.

An exam plan can extend over several days. In this case, your settings will be repeated over the different days. Consider this when choosing exam start and adding breaks. It is possible to delete a break by clicking the cross. Also note the Back-button which makes it possible to go back in the progress and edit.

In the case below the total exam time is only one hour, and therefore it is only necessary with a single date to complete the exam. Add another date by clicking "Add date", and delete a date by clicking the cross from the date you want to delete. Students will afterwards be distributed on an exam plan.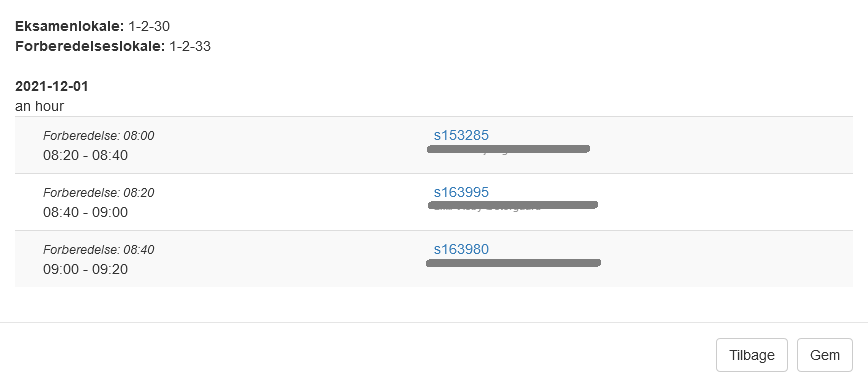 Now the exam plan is ready. If you are satisfied with the outcome, finish by clicking 'Save'.

In the tab 'Oral examination', the exam plan will now be shown.