---
Introduction
This is a walk-through for group hand-in, from downloading the exam question set to handing in (also submitting a blank exam).
---
Accessing the exam question set
Click the exam from the Digital Exam front page:

Exam information
From here you can see the hand-in steps
You see the name of exam, exam form, exam submission conditions and more.
Explaining text regarding the exam question set is also shown.
Finally, you can download the exam question set to your computer.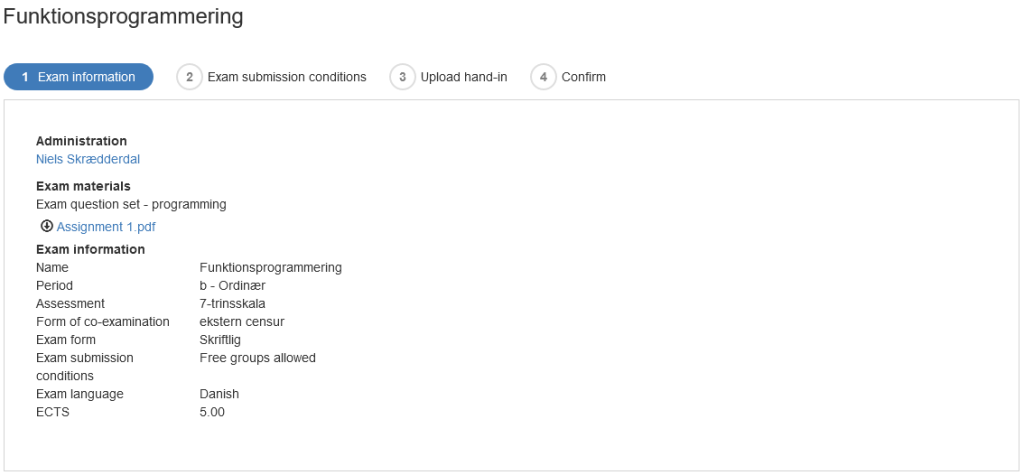 ---
Forming your group (and start the submisson)
On most exams you can form your group well in advance of the submission but it depends on how your admin has set up you exam. Digital Exam will save your group if you form it in advance of the submission
Choose that you "will take the exam as part of a group"
Name your group og Save
To form your group search out the names of the group members and click on the blue plus sign
Click Next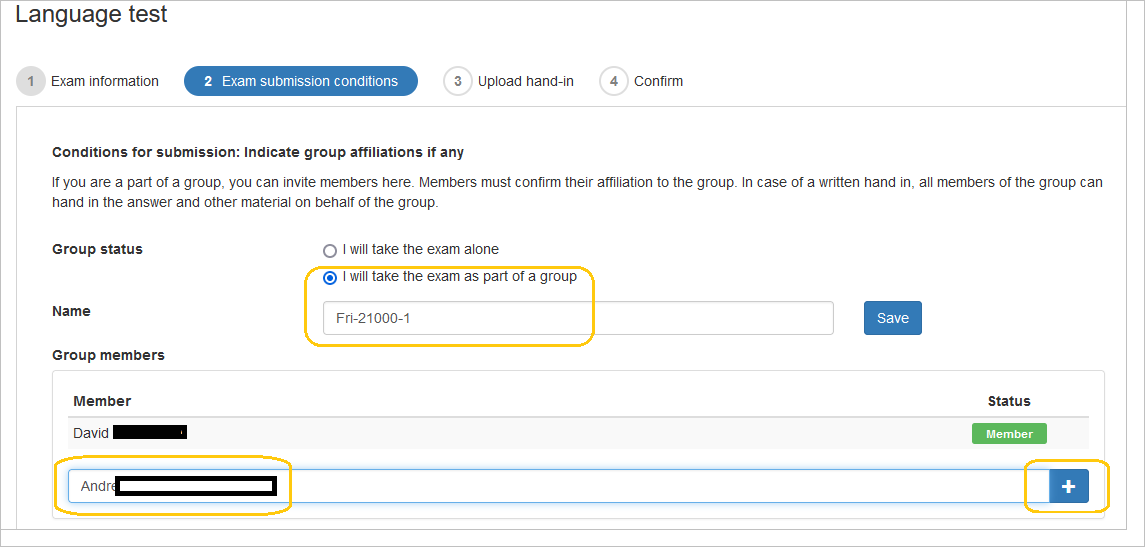 ---
Upload and confirm
Upload hand-in
Upload main document
Upload attachments (if any)
Click 'Next' in the bottom of the screen

Confirm
You will now see the files you are about to confirm as your hand-in.
If everything is in order, click 'Submit hand-in' in the lower right corner.
---
Confirmation of exam submission / Edit hand-in
Receipt
After submitting you will be redirected to a confirmation of exam submission page.
A receipt will also be sent to your student mail.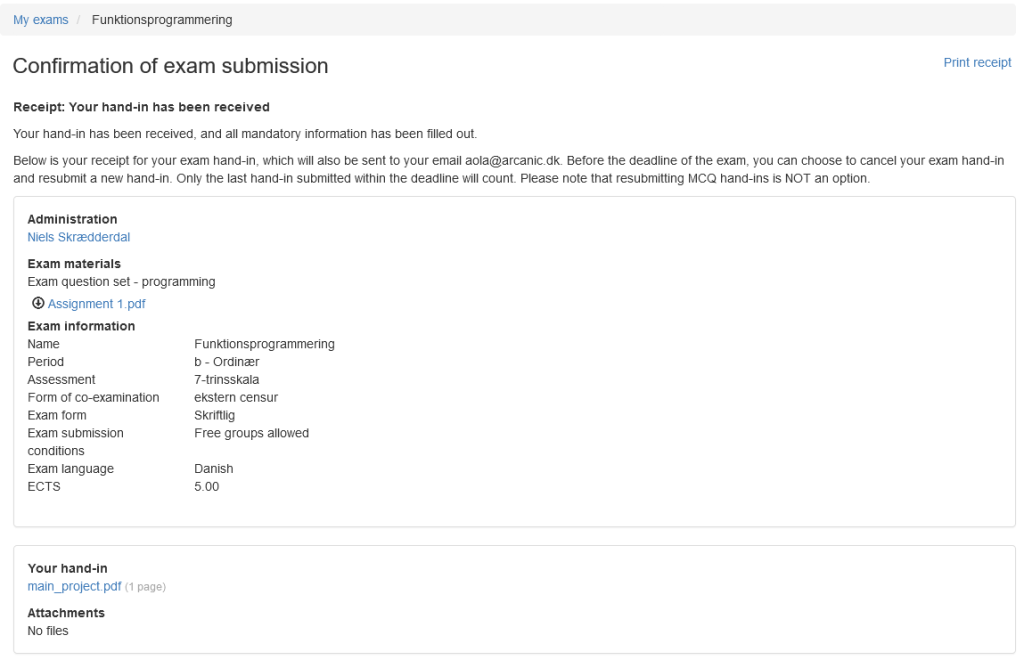 Editing
On some exam, until deadline you can edit/delete your hand-in and submit a new one

---
Your invited group members
As an invited group member you will see an invitation when you access the exam by clicking on the name
You can see the members name under Sender
Accept (to be a part of the group) or decline (if you are submitting on your own)
If the sender has already

---
Accept or decline
Accept
If you accept the invitation and the hand in has already submitted it will show up on your exam in Digital Exam
If the exam type allows it you can edit og resubmit just as your fellow students in your group. Please be advised that your actions regarding the hand in has an impact on the whole group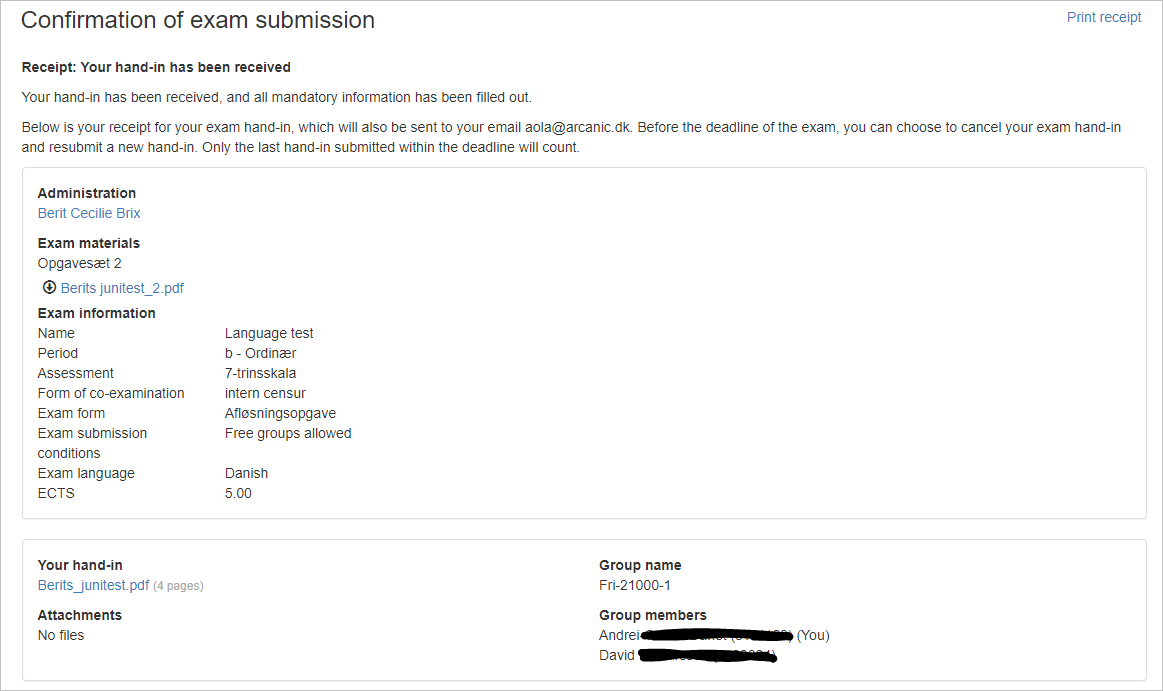 Decline
If you decline the invitation the submission flow starts from the beginning as if it were a regular individual hand in
Blank exam
If the group does not wish to submit, you can choose to submit a blank exam just as on the individual exams
Click the 'Submit a blank exam' button in the lower right corner.

You will get a warning where you can choose to continue or cancel
Choosing to submit a blank exam will also redirect you to a confirmation on the exam submission page