This tab contains settings regarding plagiarism check, PIN and Safe Exam Browser
Customers who use ITX flex (AU and AAU) select whether flex should be used for an exam or not under Security.
The settings on samples that use the ITX mobile solution (KU) have their own tab called ITX (formerly called Security)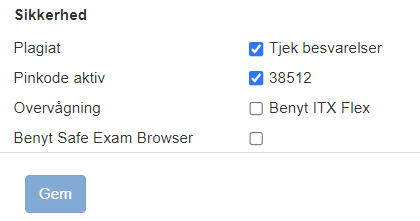 ITX flex
ITX flex is a monitoring solution for field tests where the students bring their own computer. The solution records the students' session
ITX flex requires the students to download a program and within their system settings on their computer give permission for screen recording.
Note regarding MacOS
Some students with MacOS (apple) computers have previously (before mid-January 2023) had challenges with screen recording only of the ITX flex client itself and not of the active window. This is because the students did not have the correct settings for screen recording, but nevertheless were given access to the exam. This means that some students may have inadvertently taken part in an ITX flex exam without screen recording.
This has now been solved and works like this:
Students who have never accepted screen recording are greeted by a dialogue regarding system settings and cannot access the exam until they give ITX flex access to screen record via "Anonymity and Security". If they refuse to give permission, they will not be allowed to take the exam at all.
Students who have previously given permission, but have subsequently removed the tjek, are also not allowed to take the test. However, they are not met by the dialogue regarding system settings (i.e. they have to find it themselves) but they cannot access the exam until permission is granted
As MacOS is frequently updated, Arcanic cannot support instructions for how students find the system settings and Anonymity/Security.
Only the latest versions of MacOS are supported, please visit this link for more information